Bring universes into my world
Biography
Noelle Lassailly is a self-taught painter. Born in Paris in 1965.
"Introspection is the basis of my preparatory drawings. And most often it is the gentleness that dominates in my paintings, with a touch of humor on an old-fashioned background.
I simplify as much as possible to bring out only the essentials. The most important thing for me is emotion, Essential element.
So I give birth to a universe. Another world.
Perhaps to extract myself from mine, the time of a work."

My maxim: "To bring universes into my world".
Influences
Sam Toft, Patricia Broothaers, Amedeo Modigliani
Education
2012-2021

Artiste Peintre Autodidacte France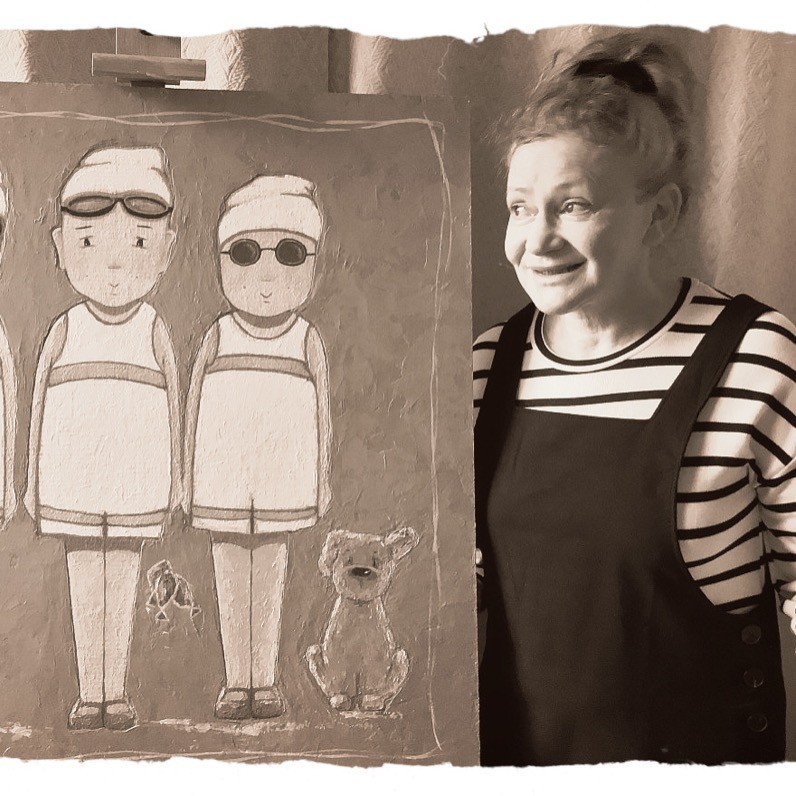 The artist at work
Prizes and Awards
---
Solo Expositions
---
2018 Galerie A-Z'Art (Septembre) Ventabren, France
2017 Galerie A-Z'Art (Aout/ Septembre) Ventabren, France
2017 Galerie A-Z'Art (Novembre / Décembre) Ventabren, France
2016 Galerie A-Z'Art (Septembre) Ventabren, France
2015 Galerie A-Z'Art (Septembre) Ventabren, France
Collective Expositions
---
2023 SIAC 2023 (Salon International Art Contemporain) Marseille, France
2022 SIAC 2022 (Salon International Art Contemporain) Marseille, France
2021 Art3f : Salon International d'Art Contemporain Marseille, France
2020 SIAC 2020 (Salon International Art Contemporain) Marseille, France
2018 Expo de Printemps Ventabren, France
2017 Galerie Autran (Février / Mars) Aix En Provence, France
2017 Mai : Journée métiers d'art et d'artisanat : Expo rue Arts Graphiques Ventabren, France
2017 Sun Expo Vitrolles, France
2016 Moulins des Arts (Mai) Rognac, France
2015 Moulins des Arts (Mai) Rognac, France
2014 Galerie "La Bergerie" (Juillet /Aout) Carry Le Rouet, France
Permanent Collections
---
2018 Grenier d'Alice Rognes, France
2017 Grenier d'Alice Rognes, France